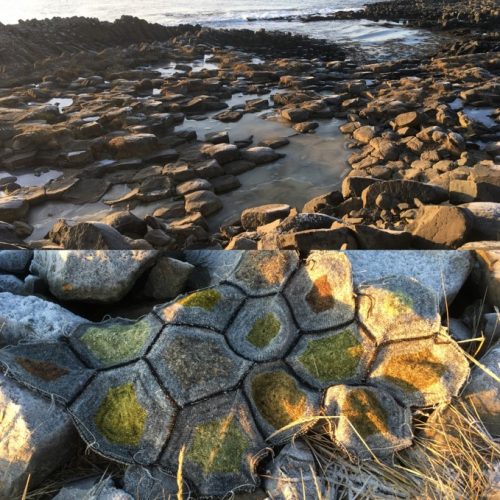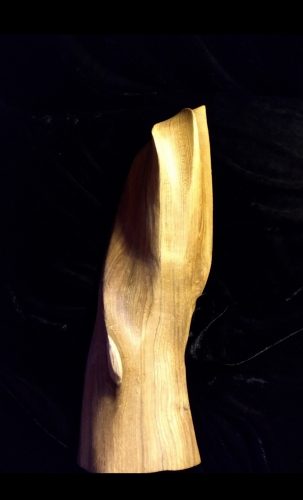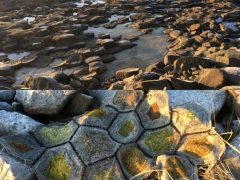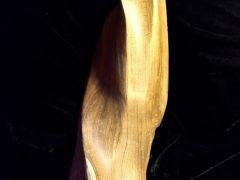 The Rockfield Centre is looking forward to welcoming both returning artists, as well as some new ones, to its shared open exhibition space this year.
A little bit about those artists:
"Unlike the classical sculptors, Sheila asks that her pieces are touched, picked up, taken for walks to become familiar with and owned. Every piece has its own story and every person who interacts with it will do so in a way unique to them. " – Sheila Quillin
"Creativity comes in many forms and I find my 'multi-media meditations' provide a means of combining my skills, interests and inspiration.
Jewellery and textile design training at Glasgow School of Art are integral to my collage work. Semi-precious beads and wire are often woven or stitched with found objects into a visual inspired by particular texts or memories.
Whether combing the shoreline in front of my home or exploring distant cultures, all become potential sources ready for blending into a new visual narrative." – Val Hamilton
"I studied Fine Art at Nottingham Trent School of Art. Taught Art and Design extensively across Scotland including Oban High School Argyll, Waid Academy Fife and latterly for fifteen years, Boroughmuir High School Edinburgh.
Teaching is for me, deeply satisfying, and although I have always managed to keep making my own work, it is only since being permanently based in Oban, and teaching with Val Hamilton in Rockfield that I feel I've got the balance right.
I discovered etching at Art School, because I was studying Fine Art I could roam around the building and use any of the facilities I wished. My fellow students were mostly involved in performance pieces, and conceptual art. But I became obsessed with the idea of skill and craftsmanship and printmaking became part of that obsession.
My work is a response to the thrilling, endlessly fascinating wild landscape I find on our doorstep. The jottings, smudges and marks I make in my sketchbooks when I'm out and about seem to be the spring board for the images that the etching process reveals." – Val Leckie
"I am a textile artist based in Oban, on the west coast of Scotland. Working mainly in wool, my recent work has examined the links between the work itself and the place in which the materials were made and the work was created.
In 2018 and 2019 I was Artist-in-Residence at the Icelandic Textile Centre in Blonduos, where I explored the unique characteristics of Icelandic wool and its relationship to the landscape in which it grows. The first exhibition 'Of the land: Icelandic wool' opened in Blonduos in June 2019 before being shown in Oban and Shetland.
This year's exhibition continues the theme, showcasing three knitted pieces in Icelandic wool which reflect the landscape, sea and sky of Iceland. In addition, there is a display of knitted correspondence with a New Zealand friend exchanging over 30 knitted 'postcards' over a 16-month period.
I learned to spin in the 1970's as a natural progression from knitting and other textile crafts, to extend my creative input to designing and producing my own unique yarns. I am fascinated with the whole process of transforming raw wool into beautiful and useful fabrics. Exploring the characteristics and potential of fibre from different breeds of sheep, and other animals, has been an ongoing dimension in my work almost since I learned to spin. I am interested in making functional yarns, suited to their intended purpose, and in selecting fibres and enhancing their inherent properties to maximise fit to function. Dyeing, particularly with plant-based dyestuffs, is endlessly fascinating. I prefer to use locally abundant plants or material that would otherwise be waste, and enjoy experimenting to discover the range of shades that can be produced on different fibres and under different conditions.
Since1981 I have taught spinning, natural dyeing and knitting classes in Scotland and internationally, for beginners and those wishing to improve their skills or learn new techniques; running workshops and individual tuition sessions in my own studio, community venues and at international fibre festivals. " – Deborah Gray
Stevenson Street, Oban, Scotland PA34 5NA
Open Studios 2020 opening
Friday 21 to Monday 24 August
Saturday 29 to Sunday 30 August
By appointment at other times
The Rockfield Centre is located on the corner of Stevenson Street and Hill Street, Oban. Stevenson Street runs off the A85 (George Street).